Last year, I already minimized my list of Commitments, and things will not be different in 2015. Instead of quantity, I decided that there are some priorities in my life that require my attention way much more than hitting certain PRs or getting myself back on stage as soon as possible.
It might be a humble list, but I am going to give it all to achieve it 'with honors'.
Recently on her Facebook, my mom shared an imagine that got me thinking.
The quote in English is something like:
"I thought, and I thought again, evaluated and re-evaluated and came to a conclusion: I do not have goals or major achievements for 2015, I just want to be happy, I want that everything goes well, that people stay healthy and have god in their hearts, the rest? I placed in his hands because when we trust him and place our heart in his hands, there is no failure. You can rest assured that the best will come!"
Whether you are religious or not, simply letting go of certain expectations helps us free ourselves to what really matters. We save our thoughts and energy to the work that we have ahead of us instead of wasting time with "what-ifs".
Therefore, for 2015, all I want is…
Invest in my health
I have a surgery coming. In the meantime, I want to keep on taking care of my body to make it stronger and resistant to the challenges it will be facing soon.
By health, I mean not only my physical health, but my mental and spiritual health as well. We live in a rush with always so much to do, people putting (unnecessary) pressure on us, expectations from ourselves and others… At a certain point we stop living and simply survive. I want to keep the negative in check so that I do not fall for their traps either.
Keep on organizing
I love seeing everything in place, but my OCD shoots me frequently into chaos whenever I cannot be perfect. It is hard to believe it but if you are a perfectionist like me, you know exactly what I am talking about.
Therefore, I decided to join the challenge from Home Storage Solutions 101. I am pretty that it is going to be a challenge, but I am really excited to join it. If you are participating too, please let me know it so that we can support each other throughout the year!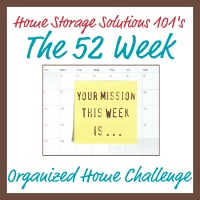 Learn more and more
One of the things I admire in real Personal Trainers is their desire to keep on improving. We see A LOT OF people out there who look at their clients as walking currency signs. These people just want to pass their certification exams so that they can start exploiting others. They have no interest of developing themselves and learning more things so that they can be of better help to those they will be assisting.
One of the reasons I started studying to acquire my PT certification was exactly because I was sick and tired of such "professionals".  Getting the NASM certification is just one of the MANY steps I want to take in order to expand my knowledge and to be able to assist others whether online or personally.
---
And these are the things I would like to accomplish in the next 12 months. Even though there are no specific deadlines, I am looking forward measuring my progress on a monthly basis and I will be sharing the status with you all.
Are you a "resolutioner" type? How do you set up yours goals? What do you do to keep yourself motivated throughout the year?
Wishing everyone an amazing 2015!!!!!
#success
#DebbieinShape
* You can also find me on:
Facebook: https://www.facebook.com/DebbieInShape
Instagram: http://instagram.com/debbieinshape
Twitter: https://twitter.com/DebbieInShape
Pinterest: http://www.pinterest.com/debbieinshape/
Google+: https://plus.google.com/104966489810408220684/